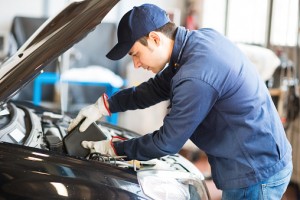 There's no need to go to the dealership for Ford service in St Paul! Instead, head over to Signal Garage Auto Care, where we are just as knowledgeable about Ford repair and more considerate of your wallet. Stop in today so we can get your ride back into shape. We offer everything your vehicle needs to stay safe and reliable, including Ford factory recommended maintenance. We can even tune up your Ford!
The Best Ford Repair in St Paul
It doesn't matter if you have an F-350 (diesel), Taurus (gasoline), or Fusion (hybrid). That's because we offer Ford service for ALL models and engine types. Here at Signal Garage, we take auto repair very seriously. From oil changes, brake repairs to tires, radiators and engines, we do it all. We don't just want our crew to be good, we want them to be the best in the Twin Cities. That's why all of our Ford service advisors and mechanics certified by The National Institute for Automotive Service Excellence. Our tool bag is deep—we are qualified to perform dozens of different types of auto repairs and services. Our technicians handle everything from transmission to cooling to engine to tires. Whether it's just time to tune up your Ford or you need more extensive repairs, we have you covered. We are well-versed in all makes, foreign and domestic, which of course includes Ford repair. Swing by and we know that you'll agree that we provide the best Ford service in St Paul and Minneapolis.
Schedule Your Ford Service Today!
Your Ford is important to you. That makes it important to us. Customer satisfaction is the backbone of our business. We are able to keep our patrons happy and coming back because we treat their vehicles as if they were our own. For the little bit of time you leave your vehicle with us, it becomes our vehicle. We care for it, repair it, look after it, and talk to it (yeah, we talk to cars), just as we do with our own cars. Let us care for your Ford – you'll be happy you did! Schedule your Ford tune up, Ford factory suggested maintenance, or repairs at our St Paul location today! 
Contact Us       Make an Appointment